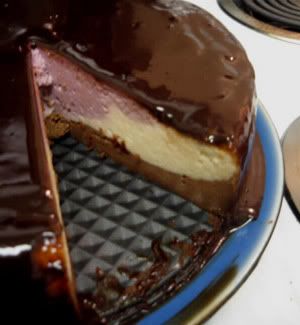 The April 2009 challenge is hosted by Jenny from
Jenny Bakes
. She has chosen Abbey's Infamous Cheesecake as the challenge.
It's funny that this month's challenge was a cheesecake because, after that visit to Rosetta's Kitchen where I did NOT take my friend's advice to get the cheesecake, I had definitely been craving some. I brainstormed for a few days deciding where to go with the recipe since I could pretty much do anything as long as it somehow resembled a cheesecake. I've seen some creative spins on this classic dessert, so I was a little overwhelmed by my prospects. Because I super el oh vee ee food pairing, though, I decided to do layers of chocolate, almond, and raspberry - which isn't the most
interesting
take on the dish, yes, but I think it reflected a certain amount of ambition.
Oh, but sometimes such ambition is such a mistake. In my head, you'd slice into the cake and see six perfect little ribbons in bold colors against this dark, luscious ganache. The cake would have these great accents like crazy chocolate shapes sticking out every which way and maybe white chocolate ganache stripes or real raspberries crowning each slice. I wanted this to be some ape shit vegan baking extravaganza because THAT'S HOW I ROLL, but instead, I made this ugly little thing posing as a cheesecake. My layers marbelized because it was too short to sustain even three layers, much less six, and I used Earth Balance cream cheese for the first time only to discover that it's not worth using. Naturally, my solution to such disappointment was to eat the entire thing in, like, a day even though it was completely underwhelming.
My kitchen shortcomings haunted me. How I wanted to create a cheesecake that was worth presenting to the world! So about two weeks later, against my better judgement, I decided to revisit the challenge. Now, it should have been a sign that making a second cheesecake was a bad idea when the grocery store was out of Mori-Nu silken tofu. I mean, everyone knows you only bake with Mori-Nu silken tofu (for whatever reason, it produces a better texture and little to no tofu taste), but I am
hard headed
. I bought the water-packed silken tofu along with everything else (in triplicate!) determined to get this thing right.
While the results were an improvement, they were still unremarkable. I had learned from my first cake: I reeled in my ambition and settled for three layers instead of six, and to prevent a Napolean complex, I tripled my recipe so each layer was essentially its own cheesecake. I even enlisted the help of a flat spat to smooth out my layers, and I used Tofutti instead of Earth Balance to enhance the flavor. Still, each level of flavor was uneven, and everything tasted... like tofu. Deliciously sweet... tofu. It was neither a baked beauty nor a culinary feast, so when I got to the decorating part, my wallet and my ego were in too much pain to continue.
I put half of the cheesecake in the freezer right away to prevent a repeat of the first one (course, it still only lasted me a week... ha), but hey, that ganache sure was good!
ALSO - blogspot still won't let me comment on other blogs?!? so I wanted to throw a shout out to Laura for having ridiculously cute and imaginative vegan cheesecakelettes.