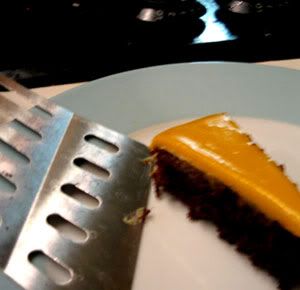 I haven't had time to sit down and post a real update, but I really wanted to get this cake recipe up before it was irrelevant. (Wait, can cake ever be irrelevant..?)
Unless you've been sitting under a rock all week, you know that Sunday was Father's Day. My dad is pre-diabetic, so if/when I make him treats, they have to stay low-glycemic. Cue: THIS AMAZING CHOCOLATE CAKE! This thing is both gluten- and sugar-free, but it's so rich and flavorful,
nobody cares
. My secret is almond meal. Almond pairs well with chocolate, making the cake's flavor bolder, deeper, and the fat from the almonds help give the cake some
body
. I made a single-layer nine-inch round (topped with
Ricki's delicious sweet potato frosting
), and between my dad, my grandpa, my sister, a family friend, and me - the cake didn't last even twenty-four hours. It was gone so fast, I almost didn't get a chance to snap a picture.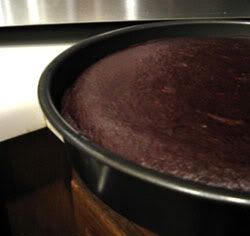 CHOCOLATE CAKE OF WONDER AND EXCITEMENT
+ 1 c water
+ 1/3 c oil
+ 2/3 c agave nectar
+ 2 t vanilla
+ 2 T flax meal
+ 1/2 c cocoa powder
+ 1/2 c brown rice flour
+ 1/4 c quinoa flour
+ 1/3 c almonds
+ 1 t baking powder
+ 1/2 t baking soda
+ salt
01. Preheat your oven to 350˚. In a mixing bowl, combine the water, oil, agave, and vanilla. Stir vigorously until well-combined. Add the flax. If you don't have flax meal (and it's preferable that you don't, really, because flax's nutritional profile is stronger when you start from seeds and turn them to meal) - if you don't have flax meal, take two tablespoons of flax seeds and grind them into a fine powder with your coffee grinder/blender. Then add the cocoa powder, brown rice flour, and quinoa flour.
02. Using your blender/food processor, grind up the almonds much like the flax seeds until you get a fine meal. If you have pre-ground almond meal, that would likely work, but doing it this way gave
me
a personal sense of satisfaction and also let me nibble the occasional little almond bit in my cake. Plus, I
suspect
the almond flavor is stronger this way since it's fresh; it hasn't been sitting in a bag all ground up and losing its zeal, y'know?
03. Add the almond meal to the rest of your baking concoction along with the baking powder, baking soda, and salt. Then blend blend blend! Since there's no gluten in the flour, you can blend to your heart's content! - and likely should: no one wants a hidden lump of baking soda in their cake, and I didn't tell you to sift that shit.
04. Grease up a cake pan. (Again, I used a nine-inch round.) Pour in your batter. As an aside, most gluten-free batters are really thick and maintain whatever shape they were poured as, but this batter is syrupy and forgiving like normal cake batter - another reason this cake is AWESOME. Anyway, pop that sucker in the oven for twenty to thirty minutes - essentially, until you can insert a toothpick and it comes out clean. Then remove it from the oven, let it cool, and frost it. (Don't forget about another low-GI frosting option brought to you by xvx party:
coconut whipped cream
.) Dig in with your favorite family members.
This cake does not serve that many people because it's too good to share. But theoretically, um, maybe it serves eight.
Oh, and as long as we're talking about a Diet, Desserts, and Dogs recipe, there's another
My Sweet Freedom
give away! Check out the awesome blog
Musings from the Fishbowl
for your chance to win.