Note: these are tagged gluten-free but are not actually gluten-free, as they contain spelt. To make them gluten-free, substituting an equivalent amount of gluten-free all-purpose flour would likely suffice.
Don't you just loved fresh baked goods in the morning? Lately, every day's begun with the same protein smoothie, but today, my body hit a wall and demanded something more. It
could
be the tremendous amount of work I'm doing; last night I stayed up until one thirty working on an illustration for a magazine (!!) that I have to put the finishing touches on today. This morning, I woke up at eight to finish a paper and brainstorm ideas for my next 3D project (we're fusing organic forms with things traditionally worn on the head or neck, and we have to make it out of paper!). Plus, I have a giant, elaborate drawing to do and a short story to write -- all of which need to be finished by early next week! (Except the paper and the magazine drawing; those are due today.) I think muffins entered the scene because I either need the extra fuel, or I need the extra feeling of reward. Either way, I thought they were so worth it that forty minutes of my morning have already disappeared. Yikes!
So, I won't proceed with over-adulating descriptions of what they taste like or how to serve them because I really need to work! Plus, they're just carob muffins. They're high-fiber, and they're sweetened with stevia. There's not much more I can say. HOWEVER, I did design the recipe to be sort of single-serving - as in, it only makes four. If you want more, double or triple the recipe, but for me, four is plenty because I don't want to eat carob muffins clear through next week. (Of course I - or you - could always freeze any extras...) If you're a wizard in the kitchen, I think hiding nut butter in the middle of these - especially peanut or cashew-macademia butter - would be sublime. Anyway, give these a whirl one morning when you need that extra "oompf" in your gut to get you through the day.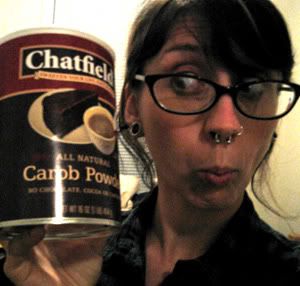 WHEAT FREE, SUGAR FREE VEGAN CAROB MUFFINS
+ 1/2 c spelt
+ 1/4 c oat bran
+ 1/8 c carob powder
+ 1 1/2 t baking powder
+ 1/2 t powdered stevia*
+ dash of salt
+ 1 t vanilla
+ 3 T oil (coconut would be amazing!)
+ 1/2 c water
* If you want to use sugar, 1/4 - 1/3 c would probably suffice.
01. Preheat the oven to 350º. Throw the dry ingredients in a bowl, and give them a quick stir with a fork so they're evenly distributed and well combined.
02. Add the wet. Stir! Stir! (With your fork - to prevent lumps. Stop stirring when there are no lumps. Remember, spelt is a cousin of flour, so gluten can still form from over-stirring. These aren't light muffins by any stretch, so don't add to that with vigorous shoulder work.)
03. Grease up or line four of the cups in a muffin tin, then fill them three-quarters of the way full. Shove the muffin tin in the oven and wait 25 - 30 minutes before pulling the muffins, cooling them, and EATING THEM!!!
04. Yes, it's just that simple.
Again - this recipe makes four servings.