Zunzi's was food I found on the fly. Only a few hours before, I had woken up from an experience that posed as sleep in a truck stop just outside of downtown Savannah. I arrived in the city with deadlines to meet and no time for eating, so as the day crawled into mid-afternoon, I found myself famished. I asked some folks where I could find a decent vegan meal (then changed my question to "vegetarian" because the word "vegan" confused them), and they said, "I'm not sure who feeds vegetarians, but I know Zunzi's across the street has a few options..." So I went across the street.
Zunzi's is a popular dining spot, and rightly so. When I arrived, there was a line out the door and around the block. Of course, this is partially because the restaurant is just a cramped little counter with very little wait space; but from what I understand, it's also a Savannah favorite. Several people in line were clearly regulars and others were discussing how they got referred there. Along the walls of Zunzi's were a number of "voted Savannah's best ____ by readers of ______" signs that dated back several years. I'm sure there are places that rival it, perhaps are even better, but I do think those plaques say SOMETHING.
To say Zunzi's has a FEW options for the omni-incompatible is pretty accurate, if you couldn't tell by the above picture. However, the few options they DO have seem to make a genuine effort at being options. (We all know what it's like to choose between a dry, flavorless veggie burger, some salads, and an assortment of bland noodle dishes...) Most of the veg dishes rely on dairy to complete them (like lasagna), so I was stuck with either the curry (which could have had cream or yogurt in it) or the mushroom sub sans cheese. Traditionally, I would have opted for the curry because any time is a good time for curry (provided I could confirm it was dairy-free), but it was warm, I was tired, and mushrooms just sounded sooo good. Going with the mushroom sub was definitely the right choice.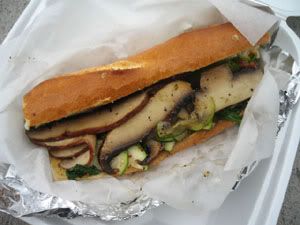 The sub is portobello mushrooms, zucchini, and roasted red pepper hummus served inside a deliciously long piece of toasted french bread. The zucchini are cut in wispy little discs while the mushrooms are portioned in large, savory slices. Both are heavily marinated in an amazing mystery sauce* before being lightly sauteed and plated with the hummus inside the bread. The heat from the vegetables softens the hummus, almost melting it through the sandwich, which makes every bite a fascinating medley of flavors and textures. With the zucchini slyly tucked between the main sandwich components, there's a nice break between the smooth, creaminess of the condiments and the toothsome bite of the mushrooms. Serving the sandwich on french bread was wise because the bread nicely absorbs all the sauces without getting soggy, and its flavor and texture are so mild, they don't distract from the fixings. This is the kind of sandwich you need two hands and lots of napkins for, but it was definitely worth the subsequent dining gore because I
demolished
it - and quickly!
With my sandwich, I also ordered a cup of Zunzi's sweet tea. Now, I'm a natural southerner in the fact that I like my iced tea sweet, but I usually get water with my meals because dining out is expensive enough and I'm never fully hydrated. In this case, though, I did order a drink because the people in front of me were raving MADLY about the tea. To their friend: "You have to get the tea, you HAVE to. I've heard this is some of the best iced tea in the city. I've heard it's sooo good!" Even though the commentary was never intended for me, such an earnest sales pitch won me over, and I must say, I'm glad I went for it. It wasn't generic black tea but instead a vibrant pink-red oolang tea with just a hint of added sweetness (perfect for those who shy away from sweet teas). The flavor was fruity, light, and summer-y, which was exactly what I needed on that balmy spring day, and when my meal was over, I couldn't decide if I wished I had more of the sub or more of the tea even though I was so full, I wanted to die.
Zunzi's doesn't get a trillion vegan thumbs up from me, but I know I'll go again. Like I said, it's not exactly veg-friendly, but the prices aren't too terrible (I think $6.50 for that giant sub) and I
need
to figure out what's in that marinade. It'd also be a great spot to hit if/when dining with grouchy omnis or if/when I'm on the fly again in that area of town.
If you're in Savannah and want to try Zunzi's for yourself, you can find them at 108 E. York Street. To double check the vegan-ness of any menu items or to inquire about food allergies, call them at 912.443.9555. You can also get a feel for the place by stopping by their website: http://www.zunzis.com.
* The sauce definitely had some minced garlic in it and a lot of herbs and spices. I think there was some soy sauce, too, and maybe sesame oil? It's been a few days since I had it; I wish I'd taken notes.