I'm not off to a glowing start as a blogger, but seriously, I have an excuse. Since I last posted, I've relocated the xveganx party to below the Mason-Dixon line. Yes, as of just a few days ago, I am an official resident of Savannah, Georgia. The last few weeks have been spent furiously scrambling everything together for this move, but now that it's behind me and I'm settled in, I can return to prattling on about veganism and straight edge and other niche topics.
Probably my favorite part of visiting new places is trying new restaurants, and along my journey, I stopped at two pretty delicious spots. One of them was the Rosetta Kitchen, a vegan restaurant in Asheville, NC, that's so well known it's probably not even worth mentioning. But hey, everyone has their own take on places. The other restaurant I sampled was Zunzi's, right here in beautiful downtown Savannah. While not the most veg-friendly dining spot, I did find something tasty on Zunzi's menu that accommodated my lifestyle, and so I am giving Zunzi a nod. If the Rosetta Kitchen and Zunzi's are any indication, I think I am going to really enjoy southern living.
The Rosetta Kitchen is a lot of standard veg fare... with an upgrade. While not exclusively vegan, it clearly labels the few vegetarian options on its menu, and no meat resides under its roof (well, unless someone is sneaking around with a salami sandwich lumped in their pocket. Which happens, trust me.) Their condiment bar distinguishes itself with some veggie favorites, like nutritional yeast and sriracha, tucked amongst its ketchups and salt shakers. There's also a self-serve cooler of filtered water - which, as one of the many who's creeped out by tap water, I really appreciated. To order, you walk past glowing cases of meticulously crafted vegan treats, and while all your options are on a chalk board overhead, the desserts are so distracting that the menus sprawled across the counter become very handy reminders to eat something healthy(ish) first.
While driving there, a friend adamantly suggested the peanut butter tofu, but I was so overwhelmed by my options, his suggestion was quickly forfeited. (Sorry, Don.) The two friends I was dining with adamantly suggested anything requiring gravy, and being a sucker for gravy, that kind of won. We committed to a theme of vegan comforts and split a serving of cornbread and collards (with extra gravy!), macaroni and "cheese", and tempalo wings.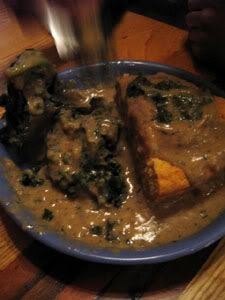 Every dish was amazing, but certainly, some things were better than others. The collards were tender and flavorful, and the gravy was worth every ounce of praise. (Supposedly, it's just a simple olive oil roux with some nutritional yeast, tamari, and OREGANO, but I don't buy it.) The cornbread, however, was a little underwhelming. It was like the corn equivalent of those meal-y faux scones discussed in
our first post
. It also came in a heaping wedge, and while I am a true American in my fondness for large portions, there's something alienating about a cake-shaped piece of cornbread. I much prefer fluffier, moister cornbreads like
the Post Punk Kitchen cornbread
, preferably in little squares that I can smear drippy globs of Earth Balance all over. (Yeah, in true American fashion.) That said, I can't say it was unappetizing. Certainly, the gravy brought more life to the cornbread, and frankly, I would have eaten it plain, too because the flavor was definitely a good balance between sweet and savory.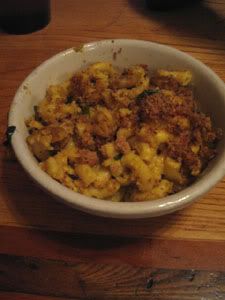 The mac'n'cheese is another thing I want to praise and disparage simultaneously. It's one of those vegan takes on mac'n'cheese that's more
inspired
by mac'n'cheese than it is attempting to duplicate it - which isn't something that bothers me in the slightest but is certainly worth mentioning. The flavor was really awesome, actually: that tangy-smooth bite of nutritional yeast complemented with tomatoes, chives, and seasoning secrets. It was also topped with a nice crust of panko bread crumbs, and, if I've never mentioned this before, I'm a
total
sucker for casseroles with crumb tops. That was the dish's real pitfall, though: the fact that it was technically a casserole. Baking it really dried the mac'n'cheese out. Now, baked vegan mac'n'cheese is a definite possibility, but it requires a sauce with more body, a sauce that's more than just a roux, soymilk, and seasonings (or at least a sauce that's twice as saucy). So Rosetta's mac'n'cheese sits in this limbo, like it's not fully committed to being a baked dish but it refuses to be just noodles and sauce. It tastes really, really great - I can't emphasize that enough - but baking the dish makes you want to chug a glass of water afterward, and that doesn't make for A+ dining.
The real highlight of the meal was the tempalo wings. When I was an omnivore, I was really indifferent to hot wings, and I definitely never ate them with ranch. To me, ranch dressing is and always will be gloopy and heavy and all around unpleasant, and food-combining be damned, I am not into it! Now that I'm vegan, what I find appetizing has changed, and I can now say I find wings with ranch to be AWESOME.
When the plate arrived, I was a little disappointed because it didn't seem like a lot of food and the meal is kind of expensive (like, $8.50 or so). Then I took my first bite of a "wing," and boy did I regret eating so much mac'n'cheese and cornbread because that wing was SERIOUS. Rosetta's takes large strips of tempeh and coats them in a thick layer of beer batter before deep-frying them. I'm not sure at what point they add their hot sauce, but the sauce is spicy without being overwhelming and has more complexity than a lot of wing sauces: very tangy,
ever-so-slightly
sweet, and really full-bodied. I was impressed. The tempeh can be eaten with your fingers, but something about their preparation (the deep-frying maybe?) makes it kind of limp and really soft to the tooth. The tempeh also loses that acidic, fermented flavor tempeh is known for as well as that sort of lumpy feeling in your mouth. Don't get me wrong: I am
definitely
a tempeh fan (reubens, anyone?), but Rosetta's makes tempalo wings in such a way that they'd appeal to even the most violent tempeh resistors. Plus, I think the texture and flavor is more suitable for what they're going for, so props on figuring out a way to move away from traditional conceptions of tempeh without completely betraying the food.
And the ranch - let's not forget about the ranch! It tasted so fresh and amazing! It was really dill-intensive and much lighter than omni-ranch while being just as creamy. I know there's something chemical that happens that makes dairy counteract capseicin (what makes spicy things spicy) and that's why ranch is served with hot wings, but I swear, this vegan ranch had the same effect. The tempalo wings were good on their own, but my mouth came to life when I coupled them with the ranch; the spice became less spicy while the dill became almost... almost sweet. Seriously, if the meal had been a dud up until this point, these tempalo wings would have made it all worth it. Lucky for me (or them?), all their food was great, and I think they deserve all that lip service they get.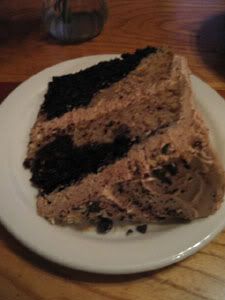 Being the gluttonous vegan that I am, I needed dessert, too, so I ordered a piece of mocha crunch cake the size of my head. I've eaten so much cake in my day (and I make really fucking good cake) that I don't feel the need to write this one up because it tastes like really generic cake. It's not bad at all, it just wasn't anything new. A part of me wished I'd ordered the ginger-pear cheesecake instead (especially since my friend had also recommended that and I'd ignored his other recommendation), but hey, there's always next time, right?
Since this is kind of an eyeful of a review, I am going to save my opinion of Zunzi's for tomorrow. If you're rolling through Asheville and want to check out the Kitchen, meet them at 116 N Lexington Avenue. You can also give them a ring at 828/232/0738 and pester them about whether or not that really is their gravy recipe. Because seriously, it does not taste like that is the recipe. I think there are more seasonings in it. Namely sage.