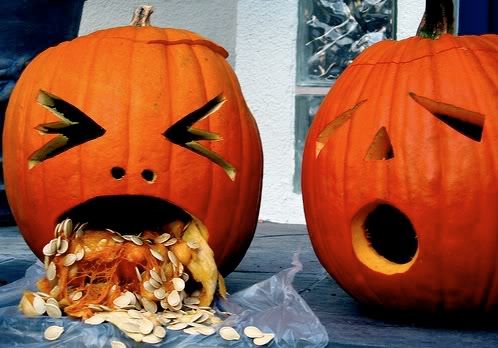 Okay, so remember yesterday when I said I had a juicy post in the works? And that it involved a guest poster? WELL, it was going to be about Halloween, and I was going to have "the ghost of Emily Post" narrate it. (I had a little Emily Post ghost drawing and everything.) The thing is, I've never thrown a Halloween party, have no intention of throwing a Halloween party, and have no business posting during a time when the internet's so saturated with Halloween ideas that my post would be super lame by comparison. (LAME - but with that xvx party flare!) So instead, I want to show you some sites I thought had rad ideas. I may not be able to generate great content on this topic, but there's something to be said about knowing where to find it, eh? Eh?
+ Last year,
American Apparel
had a
costume contest
. Even though it was a cheap promotional ploy, folks got pretty clever, and you could always replicate the ideas with non-AA clothing. Some of my favorites were
a solute to Mondrian
(can you tell I'm in art school...?),
muscle woman
(!!!),
Robin
(of Batman & Robin), these
Nickelodeon Guts & Double Dare competitors
,
weepy liberal Optimus Prime
, and
Wall-E & Eve
. They're having a contest this year, too, but it hasn't started yet. If I were going to do it, I'd dress in yellow long-johns and be that guy from
Mad Max
who... wears yellow long johns and hangs out with Mad Max. Ha.
+ Now where would all us budding crafsters and party planners be without
The Anti-Craft
? Pretty much every "issue" offers an assortment of Halloween-friendly ideas, but the Halloween-specific ones are in the archives under "Samhein" - Gaelic for "end of summer." Personally, I've always held Anti Craft's pumpkins as a gold standard in carving because I would feel like king of the universe if I could make pumpkins like
this
. If you hate yourself or everyone you know, attempt
this Dia de los Meurtos paper table cloth
; you'll die in the process of making it, but everyone that looks at it will die from an inferiority complex.
+ One of my newest and favorite blogs is
A Very Vegan Holiday
, which is kind of similar to xvx party in that it's about veganism and hanging out. (I think the author is also straight edge/substance-free..!) While Andrea always offers photogenic and delicious recipes, her specialty is Halloween, and she really serves up some good seasonal ideas. I especially like her
Swamp Slim Kebobs
and
mini Halloween pies
. Also check out her
costume contest trophies
. I don't think there ever was a more clever prize...
+
Spark People
posted ideas on
"not so tricky Halloween treats"
which takes the emphasis off food on Halloween. Most of their tips are geared towards people handing out candy to children or parents with trick-or-treaters, but I think these tips have broader applications, especially if you're hosting a small Halloween gathering. If you're hosting a larger gathering - or you're just looking for some healthier treats - I also like Spark People's ideas about
Halloween candy
, especially since
all
of them are vegan.
+ Speaking of vegan treats, if you've never checked out
PETA's classic Halloween candy list
, you ought to. It's a holiday-specific version of their feature
I Can't Believe It's Vegan!
(whose snack list offers even more sneaky vegan treats for the holidays). I'd also like to mention that as of sometime at the beginning of the year, Skittles went vegan. HOLY CRAPHOLE, RIGHT?!?! However, I still sometimes come across old Skittles bags at grocery stores, so before chowing down on every fun-size bag of Skittles (that doesn't have an ingredients list!), you might want to wait a year in hopes that all the gelatin-packed bags disappear from shelves. Because we all know: there's nothing's fun about gelatin.
+ The mother of all party blogs (though wayyyyyy too flashy/shopping/"look at me, I bought all the perfect little doo dads and whatnots that I'll never reuse, and I don't care because I have tons of MONEY!"-oriented for my tastes)
Hostess with the Mostess
has some
very detailed Halloween party plans
. If details are the only thrill of party planning for you (we're talking picking out table cloths and the confetti to throw all over them, here), then this blog and its Halloween parties are for you! Even if you're not THAT committed to party planning (and really, who is?), there
are
some cool ideas - like these
"spooky" foods
and
"creepy" cupcakes
.
+ Okay, this one is a cop out, but
Martha Stewart
always has good holiday ideas. Check out her
"favorite" costumes
and her
no-sew costumes
. Both her
indoor
and
outdoor
decorations are mostly easy and affordable and utilize everyday objects that a lot of us have on hand (or can scavenge from the right dumpsters).
+
Creepy Cupcake
is a blog that is not such a cop out. It's a year-round salute to all-things creepy, where every celebration has the sinister sensibility of a Halloween party. I especially like how Carrie Mae
updates another site's party ideas
, and check out her sick Halloween crafts like
these puff paint spider webs
. For more Halloween goodies, be sure to look at her side bar, too. Her list of links is GREAT.
+++
As for
my
Halloween tips... well, I haven't many. I like classic kids' games like bobbing for apples, goofy fortune-telling booths, ouija boards, seances, and homemade haunted houses. I also advise all you avid Halloween-sters to check out your local thrift stores around Halloween time because they always have TONNNNNS of Halloween stuff out - costumes, decorations, invitations, THE WORKS - and it's hella cheap. (I got some sweet ass Batman invitations at the Salvation Army last year for, like, fifty cents. Seriously, these things were EPIC.) If this post has inspired you, be sure to check out grocery stores and stuff for post-Halloween sales, too. Maybe you're not ready for a party this year, but there's always next year, right?
Now be safe and have fun! What are your Halloween plans this year? WHAT ARE YOU DRESSING UP AS?!?!?