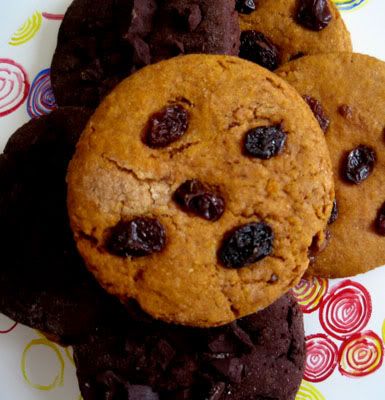 If you're trying to suggest that's a color theory exercise under there, you'd be correct. Check out my flickr if you're curious about what I do at art school all damn day.
We make it into houses, we make it into people, we make it into disagreements: ahhh, gingerbread, that classic cookie for chilly weather* that quickly polarizes people. Some folks swear by gingerbread; it's the taste of fir trees and snowmen and foil-wrapped packages bursting with bows. Just saying the word puts them in flannel pajamas in front of a fire with Nat Cole crooning on the stereo and a mug of hot chocolate in their hand. Other people detest it, though. It's spicy; it's overpowering; it tastes like the cardboard carrying a crate of cinnamon candles to a holiday shop, and it's got a texture to match. Few cookies get the mixed reviews of grins and grimaces the way gingerbread does, but a few simple adjustments is all these cookies need to find some common ground between the two camps.
I don't often make gingerbread - this time of year or otherwise. I'm a little more, "Gingerbread? Gross!" than I am, "Gingerbread? Great!" I think it's the way the molasses typically punctuates the spices. Together, they probably have some chemical interaction like wine and cheese that exaggerates the molasses
and
spice flavors, making them group-pop in a way I find distasteful. If I can especially taste the molasses, I just keep passing the cookie tray. But then, I came across an inspired idea: cocoa gingerbread cookies. I gasped. Pairing my favorite flavor with the flavors of my favorite season? Uhh, hello, sign me up! I quickly made an excuse to whip up a batch, and they were
good
in all the ways I imagined them to be. Yes, they were good - good but not
great.
These cookies were one ingredient away from absolute greatness. What these cookies really needed were some
chocolate chips
.
I wanted to make some improved chocolate gingerbread cookies ASAP, but when I had a no-chocolate friend coming into town, I was very torn. On the one hand, I really wanted to justify making these cookies again, but on the other, I couldn't bake something that excluded my friend. I felt silly making chocolate gingerbread cookies
plus
something else, so I groped for some middle ground. I got to stroking my invisible beard - made long, deep pulls at it because this was a quandry requiring some
serious
contemplation, and you could only grasp how serious by imagining some very dramatic beard tugging. Then it hit me: pumpkin gingerbread cookies. Yes, of course,
pumpkin gingerbread cookies!
- because pumpkin and ginger go well together in every other baked good on the planet (muffins, cakes, pies, scones...), and my roommate had half a can of pumpkin in the fridge that was going to waste! Plus, I had a bunch of raisins
I
wanted to use up, so pumpkin gingerbread cookies would sort of be a hero.
And, oh, heroes they were. In fact, having both cookies at once was the most delightful balance of treats - a balance made all the more delightful by an absence of molasses! The chocolate version is dark and decadent: a luscious combination of sugar and spice that makes them a maturely mysterious cookie. The other is light and aromatic: a classically earthy flavor without that classic "snap" of many brick-like gingerbread cookies. (Ever notice that? That gingerbread cookies make more of a "snap" when you eat them than ginger snaps, which are usually soft and chewy? Yeah, language is funny.) Outfitting them in chocolate and raisins is another pleasant update to this baking classic, but you could keep it old school by omitting the add ons and sticking with icing.** Whatever your opinion of gingerbread, these new approaches make for a whole new taste experience, so start heating your oven because you'll want to make these lickety-split.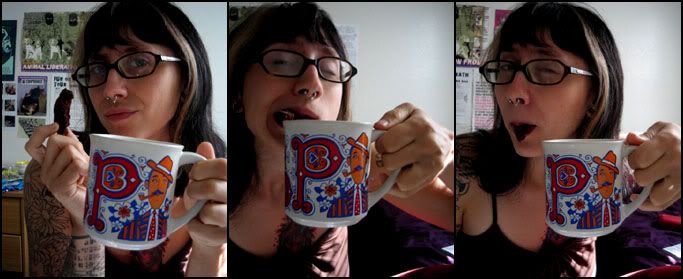 Yep, breakfast of champions - complete with vegg nog in my favorite mug. If that mug's not a sweet use of split complements, I don't know what is.
CHOCOLATE GINGERBREAD COOKIES
+ 3/4 c flour
+ 1/4 c cocoa powder
+ 1/2 c brown sugar
+ 1/4 t baking soda
+ 1/4 t baking powder
+ 1 t ginger
+ 1/2 t cinnamon
+ 1/2 t nutmeg
+ 1/2 t allspice
+ 1/8 t cloves
+ salt
+ 1/4 c oil
+ 1 t vanilla or almond extract
+ 1/8 - 1/4 c water
+ chocolate chips (optional)
PUMPKIN GINGERBREAD COOKIES
+ 1 c flour
+ 1/2 c plus 2 T brown sugar
+ 1/4 t baking soda
+ 1/4 t baking powder
+ 1 t ginger
+ 1/2 t cinnamon
+ 1/2 t nutmeg
+ 1/2 t allspice
+ 1/8 t cloves
+ salt
+ 1/2 c pumpkin puree
+ 1/4 c oil
+ 1 t vanilla or almond extract
+ raisins (optional)
01. Sift together the dry ingredients. The measurements for the spices are just a jumping off point, but personally, I never measure. I just taste and adjust as necessary. If you're scared to trust your taste buds, err on the conservative side; it's better to have a borderline sugar cookie than a spice explosion only your waste basket wants to eat. And trust me, with some of these spices, it's real easy to go overboard real fast (especially with clove! that sneaky little sucker!).
02. Add in the wet ingredients and gently stir to combine. You should have a moist (but not
wet
or
sticky
) wad of cookie dough. Wrap it in plastic wrap and place it in the freezer for an hour or two.
03. Remove the dough from the freezer, and let it stand for a few minutes as it adjusts to the relative tropical wasteland of your kitchen. Set your oven to 350º, then lightly flour a flat surface. Roll your dough out until it's about a quarter inch thick, trying to maintain a rectangular shape because you'll maximize your dough's potential as a rectangle instead of a circle. Definitely shoot for a quarter inch here, though, because if you go much thinner, you'll wind up with really crispy dry-wall cookies, but if you go much thicker, your cookies will be more like cake, not cookies. A quarter of an inch is the magic measure here, folks! Then use your favorite cookie cutters to cut out amazing shapes. (
Here
is a pretty rad tutorial on making your own cookie cutters, but there's nothing wrong with defaulting into classic shapes like
fetuses
and
charcoal grills
. If you don't own any cookie cutters, just use a cup. PUNK AS FUCK!)
Pro Tip: Dipping your cookie cutters in flour periodically before pressing them into the dough makes a cleaner cut, which makes the cookies easier to remove and transfer to a tray.
04. Continue cutting cookie shapes, then re-rolling the dough and cutting more until there's nothing left to roll and cut. Carefully transfer your cookies to a lightly greased cookie sheet (use a spatula if you need some help), and take this opportunity to press on your add ons (raisins, chocolate, nuts, whatever). Then throw those cookies into the oven and bake for eight to ten minutes. Let them cool on the cookie sheet for about two minutes, then transfer them to a wire rack or plate and allow them to cool completely.
05. Enjoy with a mug of peppermint tea or vegg nog while breathing in the crisp autumn air.
Each recipe makes approximately twelve cookies.
* As an aside, I wanted to write "chili weather" because "chilly weather" = "chili weather," but I wasn't sure how many people would recognize that as a play on words and not a typo.
** Here, I am
hinting
at a play on words. Because gingerbread cookies are most often made into gingerbread
men
(and women! and inbetweens!), and what do you use the icing for? Duh, gingerbread
outfits
. Geez, I'm on a roll..! (Originally I typed "role." What up, homonym!)
*** While I've already got you down here reading asterisks about plays on words, I wanted to tell you about all the pop culture references I wanted to make with the title, like "One Flavor Enters, Two Cookies Leave" or "Two Cookies, One Flavor." Eh? Eh? CLASSY.