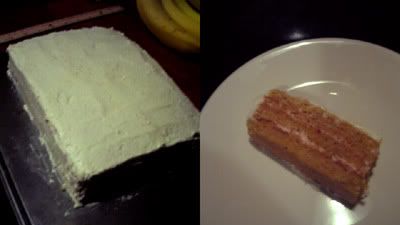 For better or for worse, this is my last Daring Baker's challenge - actually, probably for better considering how I struggle with these write ups. I always want something quippy, something epic, you know? But there's nothing epic about this. And there's nothing epic about my photos for these things, either, which in my head are going to look like these
Bon Appetit
spreads - you know, perfect composition and delicate details and all that - but which actually come out more like family photos where the cap barely came off the camera lens. Fantastic,
fantastic!
So as much as I enjoy introducing my oven to awesome new delicacies each month, I feel a little "Good bye, good riddance!" about this. Cutting back on the sugar kind of helps, too.
The August 2009 Daring Bakers' challenge was hosted by Angela of A Spoonful of Sugar and Lorraine of Not Quite Nigella. They chose the spectacular Dobos Torte based on a recipe from Rick Rodgers' cookbook Kaffeehaus: Exquisite Desserts from the Classic Caffés of Vienna, Budapest, and Prague.
Now, I have to say, there was one epic thing about this challenge that makes me pretty excited to talk about it, and that's the cake recipe I engineered. Traditionally, a Dobos Torte is, as Angela describes it, "whisper-thin layers of sponge, a decadent chocolate buttercream and crisp wedges of caramel on top." It's a pretty straight forward challenge because caramel and buttercream are total non-issues, and while sponge cake is one of those holy grails of veganism (you know, because it's sponginess comes from fluffy egg whites whipped into submission), it's easy to substitute some generic cake for the sponge cake. I, of course, could not do that. There's many recipes floating around the vegaverse that
claim
to produce vegan sponge cake; some of them even hail from vegan greats (who I won't name but I'm sure you know who I'm talking about). I've tried a handful of them including the ones offered by the vegan greats, and truth be told, none of them have done it for me. At best, they've been fluffier offshoots of everyday cakes, and at worst, they've been awkwardly textured compromises. I became a Daring Baker so I could dare myself to try some of the impossibles, and oh, this was a good challenge to tackle. And I think I tackled it quite well.
The recipe could use a tweak or two, but check out that picture above the recipe: it's easily good enough to share. It's a naturally fluffy cake base, but the secret to its success is soda water. The soda water makes little bubbles in the batter just like a sponge cake, so it stays really light and air-y. Not to sound like an asshole, but I gave myself a big pat on the back for this one. A BIG pat on the back. And now I want everyone to use it and experiment with it and make it even better.
But before we get to the recipe, I'm going to give a quick description of my torte: it was lemon sponge cakelayered between strawberry-rose buttercream with a generous white chocolate buttercream overcoat (homemade white chocolate using
BitterSweet's tasty recipe
). I opted out of the caramel because I hate caramel. Ha. And while my cake looked like a toppled tombstone with clown-colored ribbons running through it (in my defense, all my cake decorating supplies are in Georgia), it tasted awesome. AWESOME. I would definitely recommend this flavor combination. Okay, now here's something to bake: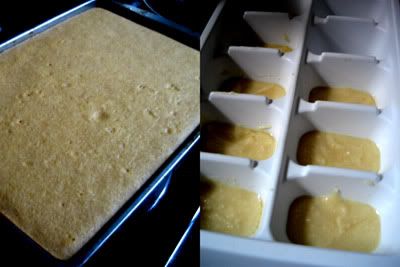 XVEGANX SPONGE CAKE
+ 1 1/4 flour
+ 2 t baking powder
+ 1/2 c confectioner's sugar
+ 1/2 c agave
+ 1/2 c soymilk
+ 2 T Earth Balance
+ 1/2 t vanilla
+ 3/4 c club soda
01. Preheat your oven to 350º. Sift together the flour, baking powder, and confectioner's sugar. Set aside. In a microwave-safe bowl, combine the agave, soymilk, Earth Balance, and vanilla. Pop it in the microwave for a minute or two to melt down the Earth Balance, and then stir those hot liquids into your dry ingredients until just combined. Gently add the club soda, mixing carefully so the mixture incorporates but the bubbles remain intact.
02. Generously - GENEROUSLY - grease up a jelly-roll pan or a regular baking sheet. (I think mine was 11x17, but it couldn't hold all my batter.) Place your cake in the oven and bake for fifteen to twenty minutes. You'll know it's done when the cakes starts pulling away from the sides of the pan and the top sort of springs back when you touch it. Be really careful about this because, if you touch too hard, you'll put a big ol' dent in your cake, and if it's not finished, you'll leave a thumb print. Remember that the cake will solidify as it cools, though.
03. Make sure the cake is completely and totally cooled before removing it. In fact, letting it hang in the fridge for a while is not a half-bad idea. When I was ready to take my cake out, I put a layer of cling rap over the top, then gentlygentlegently flipped it onto my counter. I have no idea what a good technique would be otherwise, though if you have a cutting board or something that's about the same size as your jelly roll pan, I'd say use that. Then use the cake as you see fit.
p.s. Diet, Desserts, and Dogs is having yet another
tasty giveaway
- this time for
Simply Bars
. The contest ends September 7, so hurry to get an entry in for some of these nutritiously delicious (and super high protein!) treats.